Let me show you how to make Kombucha. Homemade Kombucha tea is a delicious, fizzy fermented drink to help whip your gut into better health! It improves digestion, helps you lose weight and boosts your immunity.

Let me show you how to make Kombucha. Homemade Kombucha tea is a delicious, fizzy fermented drink to help whip your gut into better health! It improves digestion, helps you lose weight and boosts your immunity.
Kombucha known as the "Immortal Health Elixir" by the Chinese has existed for more than 2000 years. Kombucha is a fermented tea, an all natural healthy carbonated drink.
If you're trying to eat clean and have a hard time giving up sodas then Kombucha is for you! This delicious sour yet sweet tasting fizzy drink makes the perfect healthy alternative to sugary sodas.
Health Benefits of Kombucha
Detoxifying

Kombucha is high in glucaric acid. This aids the body's natural detoxification process by supporting the liver.

Aids digestion and gut health

Kombucha contains high levels of beneficial acid, probiotics and enzymes.

Joint Care –

Kombucha contains glucosamines, which increase synovial hyaluronic acid production which supports the preservation of cartilage structure. In this way kombucha can help heal and prevent joint damage as well as alleviate arthritic pain
Please note that if you are breastfeeding you should consume Kombucha with caution. I can have one glass per day otherwise my baby tends too be a bit too 'regular' if you know what I mean 🙂
How is Kombucha produced
Kombucha is produced by fermenting tea and sugar with the kombucha culture (SCOBY) The fermentation process takes approximately 7-12 days. During that period the SCOBY digests the sugar in the tea and produces a plethora of beneficial acids, enzymes and probiotics. I highly recommend buying your SCOBY from this particular company.
How to make a Kombucha SCOBY from scratch
If you are unable to obtain a Kombucha SCOBY you can try to grow one from scratch. For that you will need a bottle of raw, unpasteurized Kombucha. Pour the Kombucha into a mason jar and cover it with a cheesecloth, securing it with an elastic band. Set the bottle aside in a cool spot where it will not be disturbed (Placing it next to a fruit basket helps to speed up fermentation) After 2 weeks you will see that a SCOBY has grown at the top. Within four weeks you should have a thick enough SCOBY to proceed with brewing as outlined below.
How to make Kombucha at home for beginners
At first the whole process of home brewing kombucha and ferments in general can be intimidating but with a little practice you'll be a pro in no time.
What you need to make Kombucha
Ingredients:
1 SCOBY
14 cups unfluoridated, unchlorinated water
1 cup white organic sugar
6 black teabags
1 cup of starter tea OR unflavoured store bought Kombucha OR distilled white vinegar
Equipment
Large glass jar
cloth covers or 2 paper towels
elastic bands
Kombucha Brewing Directions
Part 1 – making sweet tea base
Boil 14 cups of unfluoridated, unchlorinated water in a large pot on the stovetop.
When water comes to a boil turn off the stove and add 1 cup of sugar.
Stir until sugar is completely dissolved.
Add 6 black tea bags and cover the pot.
Steep tea for about 10 – 15 minutes then remove the tea bags.
Cover the pot and allow the sweet tea to completely cool down to approx 90°F (32°C)
Keep in mind that the SCOBY is alive. So tea that is too hot would destroy the SCOBY microorganisms, resulting in a complete lack of fermentation.
Part 2 – first fermentation
When sweet tea is completely cool proceed as follows:
In a clean glass jar add your SCOBY and 1 cup of starter tea and sweet tea.
Cover with a clean tight woven cloth like cheesecloth or even 2 folded paper towels and secure with an elastic band. Leaving the container uncovered puts the Kombucha at risk for contamination by fruit flies.
Place in a cool dark spot to ferment for 7 – 10 days. The warmer the weather the faster the fermentation process.
Part 3 – taste test
After 7 days of fermentation taste the Kombucha:
If your Kombucha still tastes like 'just' sweet tea, i.e. not even a little bit tart then leave it to continue fermenting for a further two days then taste.
If your Kombucha has fermented too long and tastes like vinegar. DO NOT DRINK IT! Keep one cup and start the brewing process again from part 1. For the remaining 13 cups – Here are 10 ways to use up sour Kombucha.
If your Kombucha tastes just right ,a little bit tart and slightly carbonated proceed to second fermentation.
Part 4 – second fermentation
With clean hands remove the SCOBY, any SCOBY babies that may have grown AND one cup of the fermented Kombucha liquid to a large bowl. This will now serve as your base for making a fresh batch of Kombucha.
Strain the remaining Kombucha into a flip top bottle.
Placed bottled Kombucha on your countertop to ferment for a further 2 days. During this time the Kombucha will become carbonated.
You can turn your Kombucha into a flavoured carbonated beverage by flavouring your Kombucha during this second fermentation.
For ideas on how to flavour Kombucha see this post!
Part 5 – prep for a new batch of Kombucha
Sterilize the jar being used for kombucha fermentation.
Return to part 1 – making sweet tea base
In part 2 – first fermentation instead of using store-bought Kombucha use 1 cup of your very own Kombucha that you would have reserved with the SCOBY in part 4.
FAQ about Kombucha making
Q: What type of tea should I use?
A: Pure tea (camellia sinensis) i.e. black, green, oolong, pu-erh. If you're concerned about caffeine you may use decaf tea.
Q: Can I use herbal teas or black teas like Earl Grey?
A: No. Herbal teas do not contain the nutrients the SCOBY requires.
Q: What type of sugar should I use?
A: White cane sugar (organic if possible)
Q: Can I substitue honey or molasses for sugar?
A: No. The SCOBY needs to feed on white sugar and will metabolize it to produce lactic acid, acetic acid, ethanol, and CO2 so in the end the sugar content will be very little.
Q: What type of container should I use to brew my Kombucha?
A: Glass as plastic has the potential to leach undesirable chemicals.
Q: Do I have to put it in a dark place?
A: Your countertop or even a cupboard will suffice. Fermenting Kombucha should be kept out of direct sunlight and away from excessive heat or cold.
Q: I need to take a break from being what should I do with my SCOBY?
A: You can store your SCOBY in a tightly sealed container IN THE FRIDGE along with enough fresh starter liquid to start another brew. A SCOBY can remain virtually unchanged in the fridge for up to 3 months (source)
Q: Does Kombucha contain gluten or dairy?
A: No. Kombucha cultures only contain tea, sugar, and water
Q: Where can I get a Kombucha SCOBY?
A: From a friend that brews or buy it online. I recommend the kit below.
Q: I've been brewing for sometime and have a ton of SCOBY what do I do with them?
A: The best would be to gift them to friends but you can also use a few and experiment with alternative kombuchas like kombucha coffee.
Get your complete Kombucha Kit delivered to your home.
This kit contains everything you need to start and continue brewing Kombucha. Save money buying all of your necessary supplies for both brewing and bottling in one kit.
Just add water!
Image source thekombuchashop.com

So what do you think? Will you try your hand at making Kombucha at home?
Here is a handy infographic from KombuchaKamp summing up the kombucha making process.
PIN IT for future reference!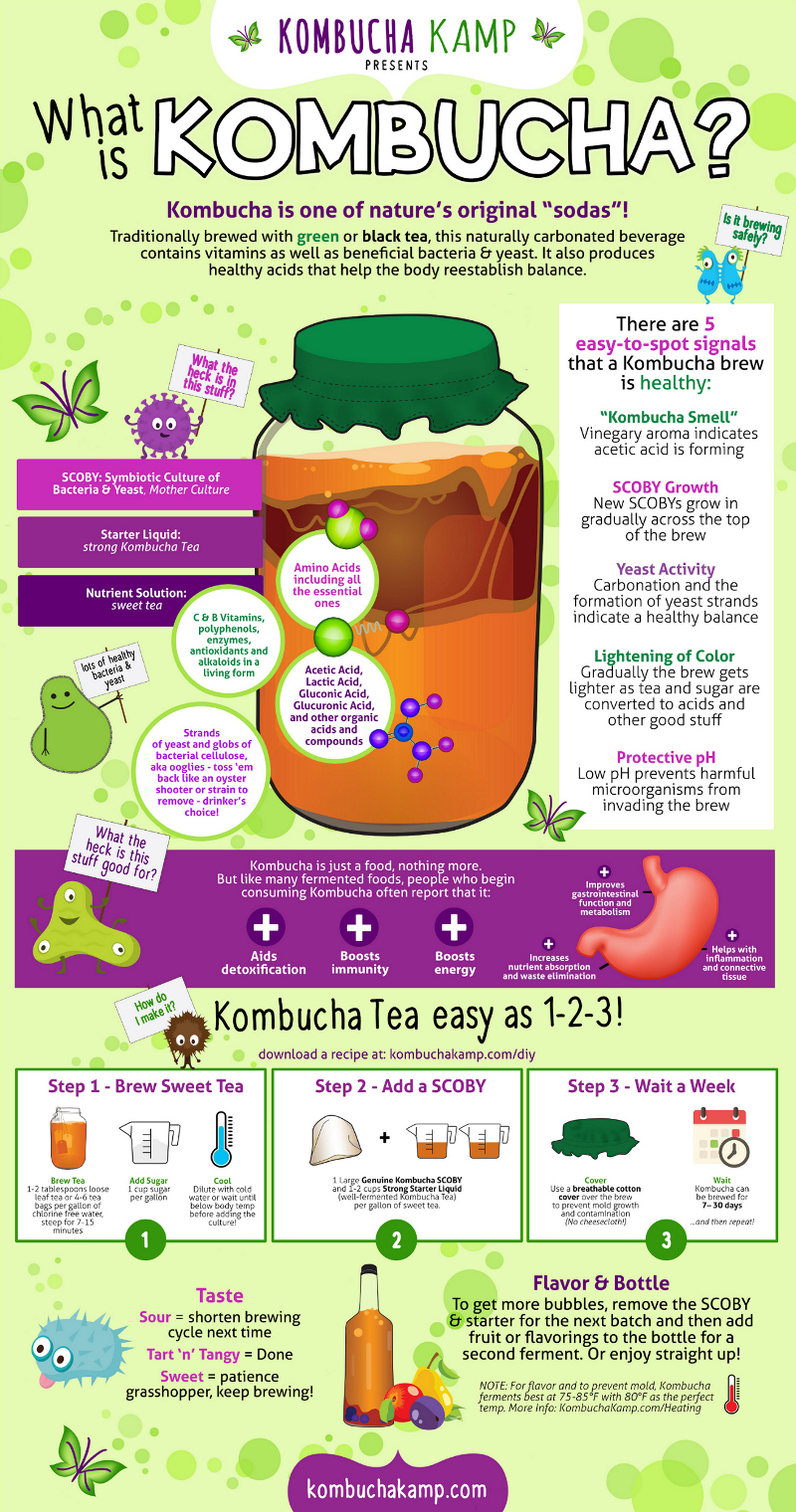 If you have any questions at all pop them in the comment section below!
You May Also Like
How to make Kombucha
Let me show you how to make Kombucha. Homemade Kombucha tea is a delicious, fizzy fermented drink to help whip your gut into better health! It improves digestion, helps you lose weight and boosts your immunity.

Ingredients
14

cups

distilled water

1

cup

sugar

6

bags black tea or 2 tablespoons loose leaf tea

1

cup

starter tea from last batch of kombucha or store-bought kombucha

unpasteurized, neutral-flavored

1

scoby per fermentation jar
Instructions
Make sweet tea
Add sugar to hot distilled water. Mix until sugar is dissolved

Add tea bags and steep tea for about 15 minutes

Allow sweet tea to cool completely

In a clean glass jar ADD sweet tea, starter tea/plain kombucha, SCOBY

Cover jar securely with a tightly woven cloth (muslin, coffee filter,paper towels, clean kitchen towel)

Ferment in a cool dark spot for 7-10 days
Taste
Taste kombucha. Too sweet? Allow to brew for a couple more days. Too sour? Shorten brewing time on next batch. Just right? Proceed to next steps
Prep for a new batch of kombucha
Prepare and cool another pot of sweet tea

Remove the SCOBY from fermentation jar to a clean plate

Reserve 2 cups of brewed 'just right' kombucha & set aside
Bottle
Bottle the remaining kombucha and store in fridge
Make a new batch of kombucha
Wash and sterilize the jar being used for kombucha fermentation

In sterilized jar combine the fresh, cooled, sweet tea with reserved starter tea. Add SCOBY and ferment for 7-10 days
Tried this recipe?
Mention @dishingupbalance or tag #dishingupbalance